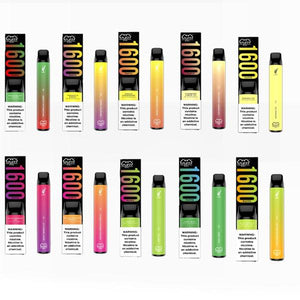 This BANG Flavor has what it takes to satisfy all of your needs at once. You will experience a ripe Peach flavor hit with a soothing ice undertone. With Peach Ice each puff tastes absolutely delicious.
Draw enough vapor in to get a sweet and ripe sensation of peach paired with iciness that hits the spot immediately.
Bang Peach Ice Disposable Device contains pre-filled nicotine salt eLiquid and requires no refilling, recharging or any maintenance.
Sporting a 600mAh battery and direct draw system, the PUFF XXL has enough power to deliver excellent flavor without any charging or complicated settings. PUFF XXL is the longest-lasting device from the Puff lineup. After your PUFF XXL runs out of juice and/or battery, simply buy a replacement. 
Specifications and Features: 
- Disposable Device requires No Maintenance, Charging or Refilling
- Pre-Filled: 1.3mL Salt Nic
- Internal Battery: 280mAh
- Pre-charged, Simply puff on the device to activate
- Pre-filled, no need for messy refills
- Salt Nicotine: 5%, (50MG) Salt Nic inside for an accurate cigarette-style throat hit
- Up to 1600+ Puffs per Disposable
- Compact and Portable